Bethlehem Lutheran Church is blessed to have two full time Pastors, a part time Youth & Young Adults Coordinator and an office which is staffed Monday to Friday. Please contact any of our staff (via the church office) for more information.
Pastor Fraser Pearce
Senior Pastor
I have served as senior pastor at Bethlehem since April 2010. Before that I served as pastor at Bethlehem, Bendigo, Victoria, (2005-2010), and as associate pastor at St Paul's, Box Hill, Victoria (1998-2005). It is a blessings to serve in a team ministry with Pastor Joshua and the other staff at Bethlehem. As well as my duties at the congregation, I also have responsibilities to the wider church, including membership on the Lutheran / Roman Catholic Dialogue, and the Commission on Theology and Inter Church Relations.

I am married to Margaret, and have four children: Oscar, Francesca, Emmanuelle, and Daniel. I enjoy music, good conversation, and low-stress exercise.
Pastor Joshua Pfeiffer
Associate Pastor
I began ministry at Bethlehem in 2015 and my time here has been a great joy and encouragement to me and my family. Before this current call I served as a pastor in Brisbane for five years. Here at Bethlehem I work closely with Pastor Fraser Pearce in most areas of our congregation's ministry. I also serve as the Lutheran University chaplain for the city campuses'. I'm married to Kimberley and we have four little kids: Evangeline, Samuel, Anastasia and Levi. I enjoy all things outdoors and these days especially like getting off-road on mountain bike trails around Adelaide.

I have an online project called 'Kairos: a time to build up', which consists of a YouTube channel and Podcast. Please see links below.
YouTube: www.youtube.com/joshuapfeiffer
Podcast: https://joshuapfeiffer.podbean.com
Lisa Thiele
Youth & Young Adults Coordinator/Office Administrator
I have been in ministry at Bethlehem since 2011. I am thankful for the outward focus of the members of the young adults and youth groups. It is encouraging to see people bringing their friends to meetings where they receive a warm welcome. The groups exist to share the gospel, to encourage people in their faith and build unity. I look forward to seeing God working in our groups to unite us and strengthen us in our faith.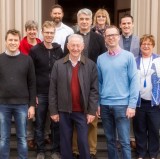 Church Council
Bethlehem Lutheran Church
Bethlehem Lutheran Church is governed by the Church Council, which is currently made up of nine members plus the two pastors. The Council represents a good cross section of the Bethlehem community and meet together monthly to discuss all matters relating to the Church.